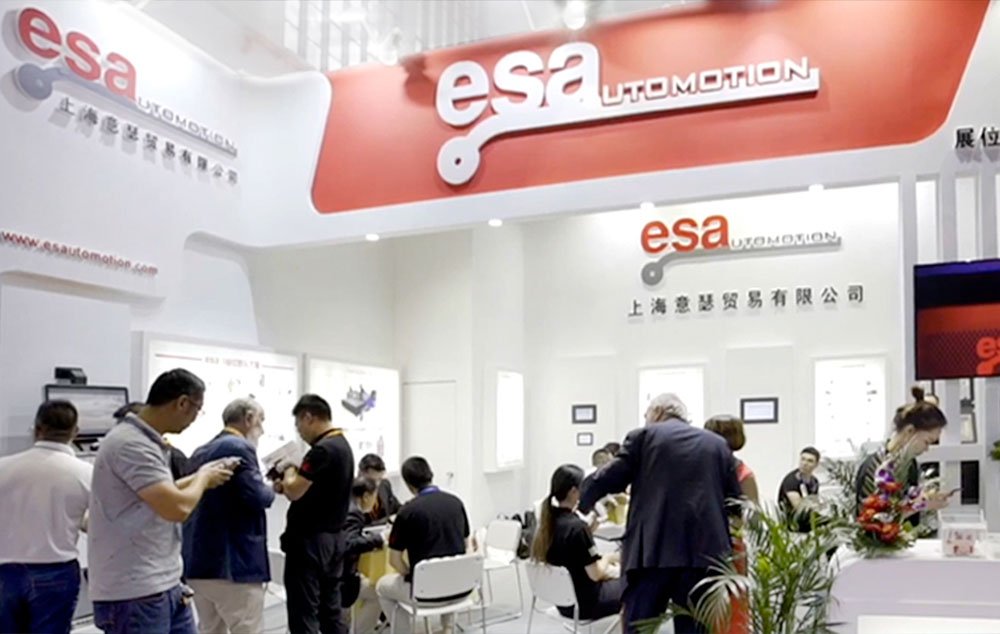 Esautomotion at CIIF 2020 in Shangai: a leading presence with the preview of the new VIS-800 Series
Esautomotion will be present with its own stand at the 2020 edition of the CIIF (China International Industry Fair), which will be held at the National Exhibition and Convention Center in Shanghai from 15 to 19 September.

Founded in 1999 as the Shanghai International Industry Fair (SIF), the CIIF took on its current name in 2006, becoming over time the reference trade fair for machines and technologies dedicated to the manufacturing industry in China. CIIF 2020 will be divided into 9 thematic areas and will occupy 280,000 square meters as an exhibition area. Over 2,600 exhibitors and more than 180,000 professional visitors are expected.

"Being at CIIF 2020 has a particular meaning, which goes beyond the strictly commercial sphere" – declares Paolo Borelli, director of Esautomotion Trading Shanghai Co. Ltd – "China is recovering quickly from the crisis caused by Covid-19. By participating in this year's CCIF we want to give a strong signal of presence to our customers and to the entire local market, also taking the opportunity to show the new VIS-800 series as a world preview ".

"Unlike its European competitors, which act through local dealers, Esautomotion China is in effect a Chinese company with an Italian brain" – underlines Paolo Borelli – "Our exclusive strength is to combine qualitative excellence and credibility of a large European company, highly internationalized and leader in advanced CNC systems, with the competitive advantage of production made in China. The technicians and engineers who work with us are Chinese, while the turn key application software is 100% made in Esautomotion HQ: this translates into a perfect understanding of the complex Chinese reality and a better satisfaction of customer needs ".
"The Chinese market is highly strategic due to its enormous potential and plays a priority role in our development strategies" – comments Andrea Senzolo, World Sales Manager of Esautomotion – The sheet metal cutting and processing machinery field in China is literally exploded within a few years, taking advantage of the exceptional growth rate of the local manufacturing industry: in 7 or 8 years it went from 0 to over 25,000 machines produced! Hence the decision to open a direct branch in China, to manage not only the commercial activities but also to produce the CNCs on site. We have just completed the concentration of all activities (sales, production and technical assistance) in a single new location in Shanghai, in order to optimize internal efficiency and ensure optimal customer service ".

"The numbers are proving these choices right – emphasizes Andrea Senzolo -" In recent years we have grown impetuously, always double digit. Despite the Covid-19 emergency, the Chinese branch's 2020 turnover trend is forecasting to be higher than 2019: we are the absolute leader in CNC for bending and among the most important brands in CNCs for laser cutting ".

"The arrival of the new VIS-800 series CNCs, which we will present in world premiere at CIIF 2020, will certainly contribute to our further expansion in China" – highlights Paolo Borelli – "The features are all there: greater power, sophisticated technology and wifi connectivity total in an Industry 4.0 perspective to control and manage a greater number of peripherals more efficiently. Added to this is the significantly improved user experience thanks to the GlassOnly Full Touch screens and the revised and improved HMIs. The VIS-800 series certainly represents the state of the art in the CNC category! ".

The coordinates of the Esautomotion stand at CIIF 2020 are Hall 3 – C106.